Date: February 10th, 2022
Do you
really

understand what your customer wants?

Which of your customers have the potential to become power shoppers? And which customers cost you money? Understanding your customers' behavior on a 1:1 level is key information to achieve your business goals.

A CDP allows you to get to know your customers and act on the insights you gain. It's the very core of omnichannel personalization, which is steadily becoming the foundation of the customer experiences that consumers expect.

But the project might seem like an overwhelming tech endeavor.

… Or maybe you don't know what it takes from your organization to succeed with a CDP.

In this webinar, Jeppe Godske Olsen from Raptor Services gives you a step-by-step approach to start thinking CDP – from the commercial goals and use-cases to a specific implementation. Jeppe will outline the vision behind omnichannel personalization, the types of commercial muscles you should foster in your organization to succeed in acting on customer insights.
Is this relevant to me?
If you are considering a CDP for your organization, but still have some uncovered questions in terms of value ad, required competencies, and understanding the implementation process this webinar is relevant for you.
The vision behind Omnichannel Personalization

Challenges you will meet in the transitional process

How to succeed with a Customer Data Platform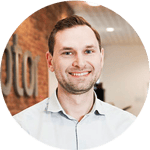 Jeppe Godske Olsen
Director, Partner Management, Raptor Services
Sign up for our newsletter