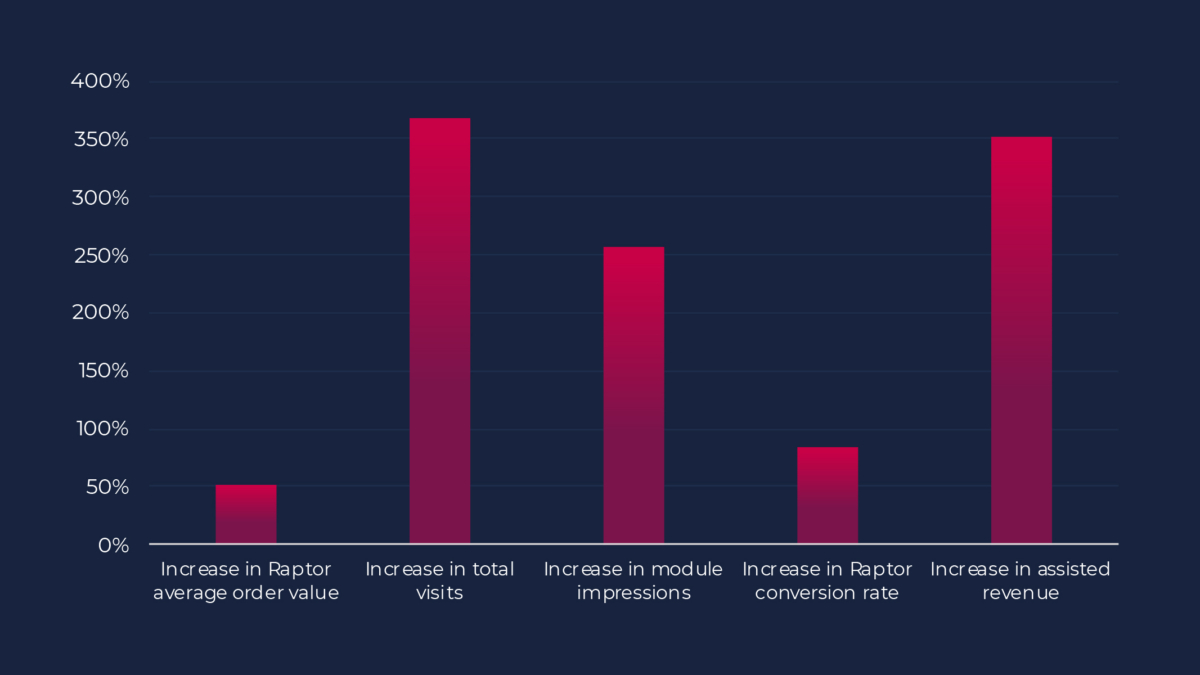 By Helle Vad Jespersen
}
Reading Time: 1 minutes
The long term consequences of the Covid-19 pandemic are unclear.
What is clear, is that consumer behavior has been forced to shift. In some cases that mean whole industries are shut down. Others thrive. In some industries, businesses with a strong online presence are actually growing at an unprecedented pace.
We've measured data across fashion, building hardware and tools, groceries, and electronics. The tendencies are extremely clear, and in some case we're witnessing daily sales far exceed those of Black Friday.
The five data points we're looking at are:
Total Visits:
Overall there's been a massive growth in number of website visits across the four industries in the period.
Average Order Value:
Average order value for customers who placed items in their cart through Raptors personalized recommendations.
Module Impressions:
More module impressions translates directly to more overall pageviews. Raptor's personalization modules are updated in real-time every time a page loads.
Conversion Rate:
When we measure Raptor conversion rates, we look exclusively at conversions where the product is recommended through Raptor modules. These are usually higher than a site's average conversion rates as a result of personalization.
Assisted Revenue:
This measurement shows revenue where the customer have actively engaged with Raptor personalization in the shopping process.
Do you want to learn more about personalization on websites?
Personalization is the process of delivering products and content that are individually tailored towards each specific user.
So, how do you utilize the power of real-time personalization to drive revenue and conversion improvements?
This whitepaper will show you the way, if you wish to move away from one size fits all-approach and start utilizing customer data to create a one-to-one personalized customer experience that stays relevant at all times.