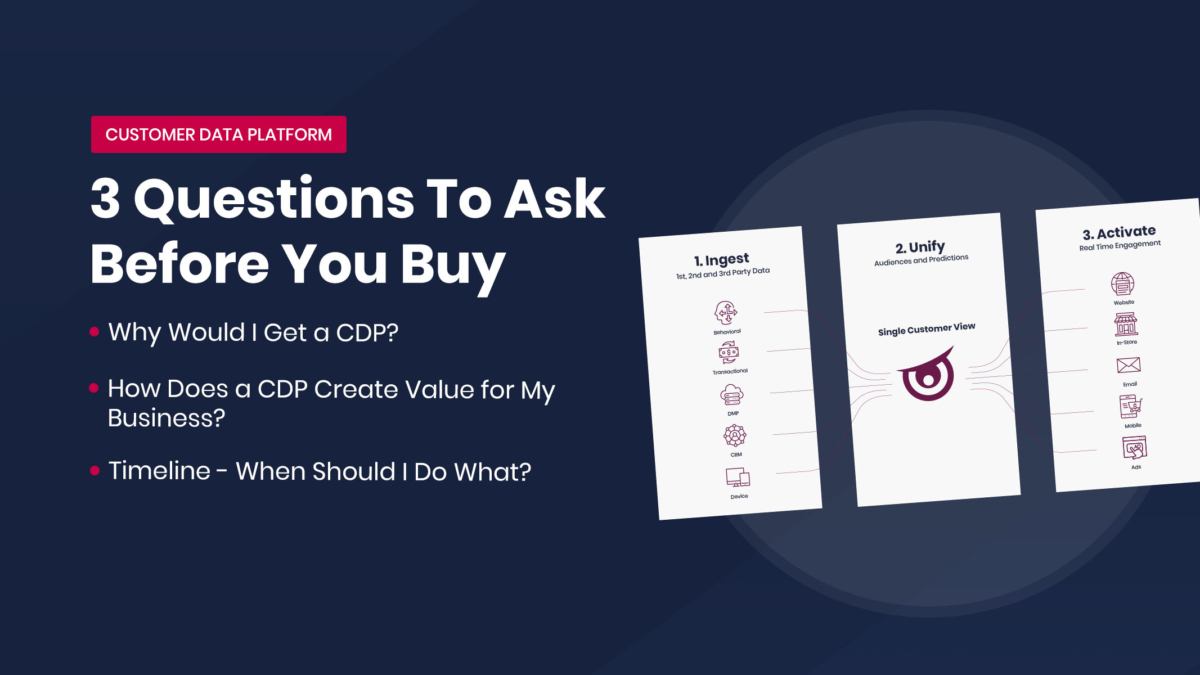 By Helle Vad Jespersen
}
Reading Time: 5 minutes
Customer data platforms: You have probably heard the buzz, seen the ads and maybe you have even been asked to evaluate one for your business. The reasons for buying one are many. In this blog post, we provide you with answers to the 3 most frequently asked questions concerning a CDP.
Before reading this article, make sure that you are familiar with the basics of a CDP.
We have several resources covering the topic.
Explore some of them here:
1: Why would I get a CDP?
Different organizations have different uses for a CDP, so naturally, you will find more than one reason to get one. Below, we elaborate on a few of the most common advantages a customer data platform brings.
1.1: I can store all my customer data in one, central platform
Often, your customer data gets separated into silos or systems that are unable to communicate across platforms. Take for example a user that opens an email-automation for the first time. He or she is unable to deliver personalized content for the customers to engage with due to data separation. Without a system to integrate behavioral data from your webshop with your email data, you are likely to be missing data from important customer touchpoints.
A CDP lets you ingest and harmonize data from all your customer touchpoints across your channels and platforms. This allows your data to flow freely and to be used in unison, instead of being locked into separate data silos.
Case Study: How Sport 24 utilize customer data in paid media channels
Customer data becomes immensely valuable to your organization when all of your different customer touchpoints ingest data into the same platform and when that data is unified.
Storing all your data together allows you to compile an overview of your whole customer base and their behavior, which provides one "Single Customer View".
1.2: I gain a single customer view through a Golden Customer Record
Storing all your customer data in a single platform has the major advantage of providing you with a single view of all your customers across your different touchpoints (webshop, e-mail, devices, etc.).
Using the CDP Audience Builder to create dynamic audiences allows you to eliminate any irrelevant communication to customers.
If you for example build an audience consisting of customers who have returned a product within the last 30 days, you avoid pushing communication to customers that no longer return products. If a customer then returns a product, he or she will enter the audience and become part of your targeted communication list.
This way, you only communicate relevant information for those who meet the requirements of your selected audiences. Everyone else will stay off your target communication list and this way avoid being bothered with irrelevant information.
1.3: I can activate customer data across channels
Once your data is ingested in the CDP and you have set up your first dynamic audiences, you can start to activate it in your communication channels, such as Facebook, e-mail, Mobile, and your webshop.
Without a CDP, most marketers can use some data to drive relevant communication, but the data is often generated in the same channel, that it is being activated. For example, you can send an email to everyone who has clicked your newsletter in the past 30 days.
However, if you wish to communicate a specific message to anyone who has been in contact with your brand for the past 30 days, a CDP enables you to compile a list of relevant users and still send an e-mail but based on data from all your customer's digital touchpoints.
From these two scenarios, it is not hard to imagine which of the two lists is most accurate and apprehensive. You simply get more value from your data, when it is combined in a single platform, instead of stored in separate silos.
Your content goes here. Edit or remove this text inline or in the module Content settings. You can also style every aspect of this content in the module Design settings and even apply custom CSS to this text in the module Advanced settings.
2: How does a CDP create value for my business?
Once you are motivated to acquire a Customer Data Platform for your business, you need to consider how and where it will provide the most value:
2.1: I can activate customer data and increase revenue across channels
There is a lot of value in structuring and working with your customer data and segments across channels, but mostly you need to focus on activating your customer data. This will lead to increased revenue across channels.
Sport 24 is the ideal case to demonstrate successful data activation. They use the CDP to target customers in a Facebook audience, based on their own customer data.
Read more: Personalized Omnichannel – The Customer Journey
2.2: I can minimize manual processes and increase savings
Another important aspect of value creation is the fact that a CDP allows you to minimize manual processes through the Audience Builder. We have already touched upon this in section 1 but depending on how mature your personalization is a CDP can help you automate a lot of manual segmentation processes through dynamic audiences.
There are several other benefits of a CDP that are related to reducing costs or time spent on manual processes. Take for example GDPR compliance through a Golden Customer Record that can track all your permissions in one place, independent of channels.
You also need to consider media savings: you no longer need to pay for behavioral data, since your activated customer data provides better results than generic customer data, especially when it comes to targeting and retargeting campaigns.
2.3: First-party data can be used as a competitive advantage for my business
Your first-party data is your own and that data quickly becomes a competitive advantage when you use a CDP to orchestrate your personalization effort.
With a CDP you simply have more useful knowledge about your customers than your competitors could ever gain. This is due to your unique data points that form individual insights about your customers.
Such unique data is not something your competitors can just go out and buy – it takes time to build a database of the channel- and product affinity, shopping behavior, and predicted lifetime value. Your data is richer and more accurate than third- or second-party data and that is why you get a deeper understanding of your customers and can offer them more relevance than your competitors who do not use a CDP.

3: Timeline – When Should I Do What?
Before you buy a CDP, you should have an idea of what happens after the agreement is made. Therefore, it is important to make a clear disposition of your needs and motivations for getting a CDP and forming a timeline based on your priorities. We propose you include the following steps in your timeline:
Evaluate different CDPs and choose the one that lives up to your specific needs.
After you purchase a CDP, the first thing you want to do is to ingest data sources into the platform.
Integrate the CDP with your existing tools and platforms. This will allow your CDP to send information to your activation tool.
Your CDP is now fully integrated with your tech stack, and you can start building audiences.
Build a few test audiences, to make sure that your entire userbase is included, and that ingest, and activation channels all communicate.
Set up your first campaign, and let the CDP compile an audience, that it sends to your chosen activation channels.
Start building and scaling your entire marketing communication setup around your user data and serve your customers with relevant communication.
Case Study: NEYE – A 360 personalized customer experience
Timeline model
Below, you will find a Timeline model of the different steps, necessary to start collecting data with your CDP.

These are some of the considerations you need to make, before acquiring a CDP.
Do you want to learn more?
Download our whitepaper to learn the pros and cons of a Customer Data Platform.
Get the guide here