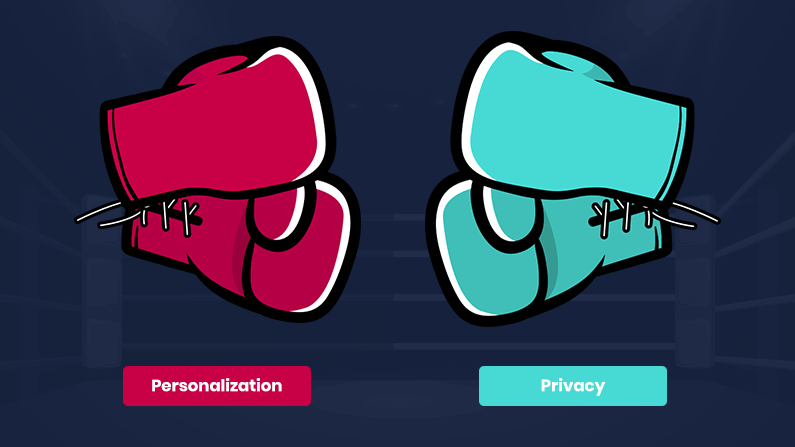 Customers see data transparency as an essential. For companies this becomes a factor influencing success in the market. EY
After 2022, collecting data completely relies on being given explicit consent.
People are already much more reluctant to push that "Allow all cookies" button when visiting a website, so you need to make it explicitly clear what they get in return.
If your content has high value, visitors are much more willing to share their information with you, so start thinking about this exchange now – and how you convey that to your potential customers.
Is it okay to be tracked by your favorite coffee shop if it means you get special, personalized offers on your favorite drinks?
If your customer thinks so, you have found a nicely balanced exchange.
Want a step-by-step guide for collecting consent in a post-cookie world?
Get our popular cookie guide that takes you through all the details.
Get the cookie guide here →
Change isn't easy…
… and we guarantee that the changes in data privacy won't stop here. It's complex, it's overwhelming, and it's tempting to postpone it until it's impossible to ignore.
But you really shouldn't.
If you're still unsure how to get started, sign up to our webinar on December 8th (in Danish), where Raptor Services and Resolution Media have partnered up to give you a step-by-step guide to your new data strategy.
Every company is facing similar challenges, and we have seen it all before – but you can get a competitive advantage by starting your new data strategy now.
Key takeaways
The privacy movement calls for appropriate and precise personalization – scrap the scattergun technique and focus on reaching the right audiences with the right products at the right time
By changing to a 1st party data strategy today, you can bridge the gap between data privacy and marketing performance
A Customer Data Platform is the ultimate way to organize your data and activate it across your different channels for personalization experiences that foster trusting, long-term customer relationships.
Let us show you what you can achieve with premium personalization


A Raptor expert can share more about the product and answer any questions you have.