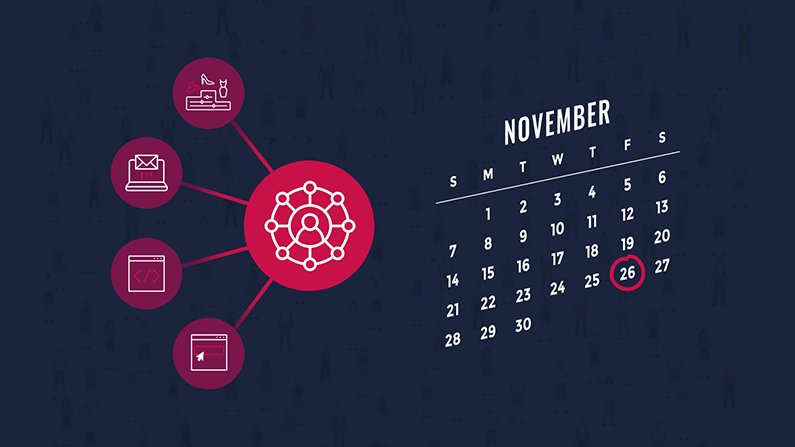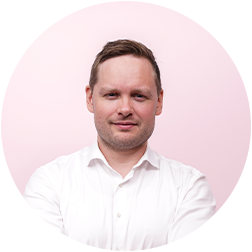 By Anders Spicker
}
Reading Time: 6 minutes
Black Friday and Cyber Monday are, without a doubt, the biggest shopping days of the year. In 2020,
65%
of customers chose to make their purchases online on Black Friday for the comfort of shopping from home.
As a marketer or someone working in sales, you need to prepare how you wish to present products and content ahead of time to ensure you can break through the noise.
The absolute goal is to be top of mind of your potential customers. You want to be the "thumb-stopping-moment" and the one offering the best solution to satisfy customers' needs and wants. Such a goal requires your presence on digital channels as much as possible during the busy season.
This blog post provides you valuable tips for using personalization in your Black Friday campaign strategy.
E-mail Triggers
Customers have different mindsets on Black Friday – they browse on many different websites to find the best offer on the product they are looking for. In a sense they (or we) are less loyal than what characterizes our normal buying behavior. We know the offers are many and price reductions on expensive products happen in a heartbeat.
It's impossible to convert every visitor to your website, but with e-mail triggers, you have a good chance to create a win-back on many visitors who leave your website without completing their purchase.
3 must-have e-mail triggers
Price Drop
The "Price Drop" trigger makes it possible to use your subscriber's behavioral data from before Black Friday to notify them about a price reduction on a product they have shown a high interest in.
You can use this behavioral data to send the right e-mails to the right subscribers, instead of guessing which products and offers the individual is interested in. This trigger also allows you to communicate valuable information to customers, even after Black Friday.
Check out how Zizzi used Price Drop Trigger to increase conversion Rates with 8.37%?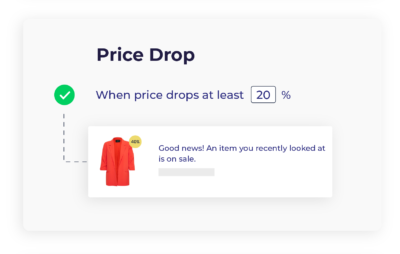 Product Interest
If a customer seemed interested in a specific product but didn't end up purchasing, you could try giving them a discount for that particular item or reminding them of their initial interest, by sending them an e-mail containing the product or products of their desire.
The Product Interest trigger enables you to set a specific amount of product page visits to trigger an email.
With this trigger, you can reach some of the users who have already left your website without completing a purchase, before they buy their product at a competitor's website.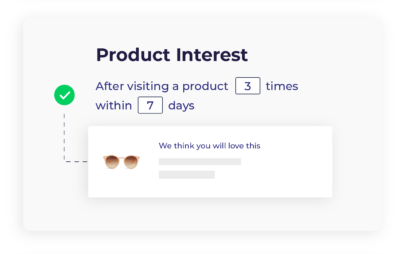 Abandoned Basket
The customer's basket was filled with items; however, the customer didn't complete the purchase. Send them a helpful reminder with the products they never bought. You might even want to display similar products to increase the likelihood of upselling or cross-selling.
Remember, on Black Friday, customers are in a "ready to buy"-mode, and they visit many websites during this period. The success criteria are not necessary to make customers convert the first time they visit but to become part of their consciousness when considering their options. Abandoned basket e-mails are ideal reminders for customers to keep you in the loop.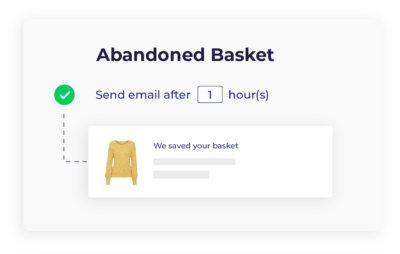 E-mail Personalization
Many of your subscribers have visited your website before Black Friday, which means you already have their customer data and can use this to personalize products and content for future visits.
To send personalized emails, it requires that you have a tracking script on your website to collect user behavior from your subscribers. With a tracking script set, you can use product recommendation modules in your e-mails tailored towards each subscriber.
You can still collect behavioral data even though a user hasn't turned into a subscriber yet. When they become part of your list, you have all the preexisting data you need to provide them with valuable e-mails suited to their interests.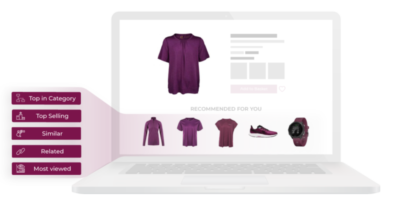 E-mail module for Black Friday
Make sure to use the "Personalized Black Friday Offer"-module, which ensures that subscribers only receive relevant offers based on previous behavior in all their e-mails during Black Friday. The module can be adjusted so it only shows products that have a certain percentage discount etc.
The module updates in real-time, which means that it considers the latest user behavior before creating a personalized recommendation. So, the second an e-mail is opened by a subscriber; it determines which products should be displayed. By doing so, you will never show products that are out of stock or out of interest to the subscriber.

Download our guide on E-mail Personalization and give your performance a major boost!
Website Personalization
Companies usually spend large budgets on generating relevant traffic to their website during Black Friday. To ensure that you get the most out of your purchased traffic and that your visitors get a personal customer experience, personalization is a must-have on your website.
During Black Friday some of your visitors will be known, and some will be unknown. If you have collected data on your customers' prior activities, such as purchases, clicks, and visits, now is the ideal time to activate that data (more on that below). If you have fallen short of data, your best choice is to display best-selling or most trending products. This will inspire your website visitors and make them feel confident about their purchases.
Personalization will also save you a lot of manual resources in terms of not having to choose which products should be displayed on each landing page on your website. Instead, personalization ensures that the individual customer's actions determine which products they get to see.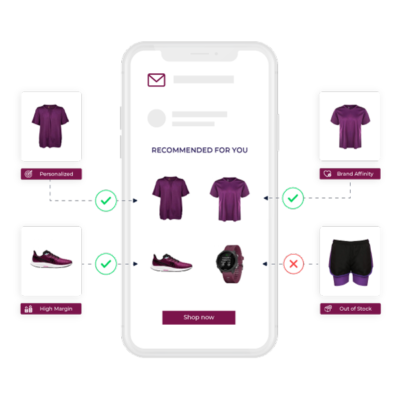 Frontpage
Make the modules "Best Selling" and "Popular Products" dynamic by taking a shorter period of users' activity into account. You can choose whether the period should run over, e.g., the last 500 purchases or 1000 impressions.
Why? A shorter period will catch recent micro-trends occuring each hour. A more extended period, such as the last 30 days, will give you a misguided idea of the most popular products on Black Friday.
Set the module to shift between the displayed products every hour as this is useful on a day where the activity level on your website is high.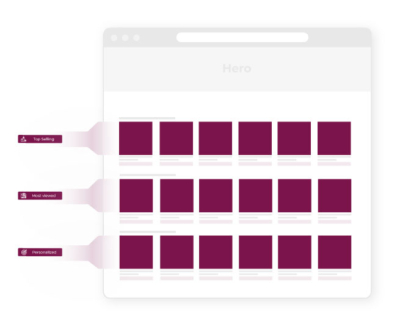 Category pages
Use your category pages to urge the user to click on products. At this point, you have more data on the customer as you know which category the user has shown interest in from prior visits. Use this data to decide which products to display.
On category pages, you should display the best-selling products within the category. Use any previous behavior to determine which products should be displayed within the category. If you don't have any data, you should display the most popular products, which still have an impact.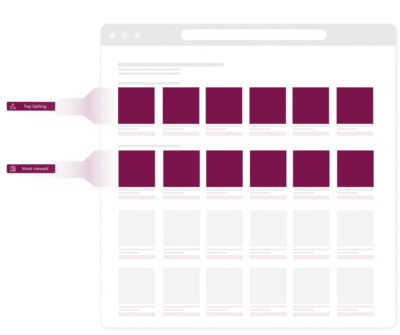 Product pages
When the customer lands on one of your product pages or has browsed through different pages to reach a product, you are aware of the customer's interest. However, you don't know for sure what they are looking at within the category – which is why you need to inspire continuously throughout their visit.
Use modules displaying similar products. If the user cannot find the specific product they are looking for, it's your job to show alternative choices to assist the conversion. You simply become more relevant by using personalization on product pages and offering related items that might match the customer's needs and wants more accurately.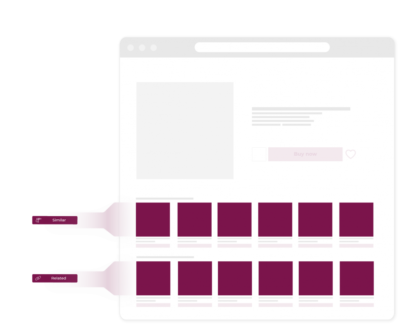 Basket pages
The user has added a product to the cart and is now moving on to the basket page. Here, you have one last attempt to increase basket size, but be careful and focus on the most important thing: that the customer converts.
Does the customer have everything they need?
Make sure to present customers with products related to their choices in their basket. If the customer has added a dress, tights could be a related item. Don't, however, confuse customers with similar products, such as a dress with the same shape and colors, as this can demotivate their buying decision and make them re-consider altogether.
In addition, it isn't recommended that you use modules on the checkout page, as the customer should only focus on the conversion itself.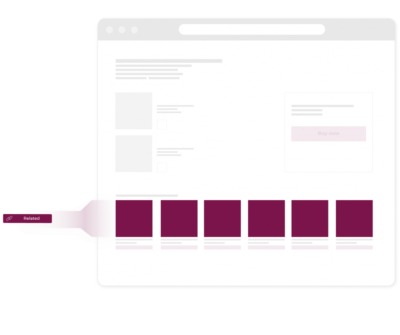 E-commerce Merchandising
As you probably know from physical stores, merchandising is about placing specific products or brands at eye level. This principle is just as important when you design your online store.
E-commerce merchandising is about placing specific products that capture your customers' attention and thereby increases the chance of a sale.
Usually, the products displayed in a recommendation module are selected based on the user's previous behavior, which means that you don't have control over which products are displayed in the module.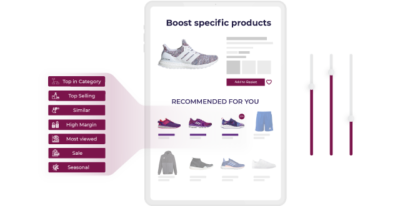 Sell top spots in your recommendation modules to suppliers/brands
Black Friday is a perfect opportunity to strengthen your relationship with suppliers and brands. Think of your company as an advertising platform where suppliers and brands have the opportunity to buy top spots in your recommendation modules. Most brands are willing to spend large budgets on being part of your "recommended products section," especially on a day with increased traffic.
E-commerce sites have relevant customers, and brands are well aware of this. Brands are constantly looking for new ways to reach potential customers, and e-commerce sites are an obvious go-to choice for them, as their potential customers are under one roof.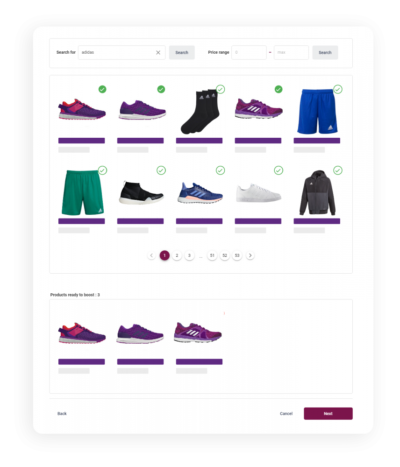 Personalization in Paid Media
Your Black Friday Campaign needs to make every customer touchpoint count. Social media is a direct way to increase reach because you get to take the platforms already generating the most revenue and make them even more relevant with personalized content and product recommendations.
By integrating personalization in your preferred paid media channels, such as Facebook ads, Instagram ads, LinkedIn ads, Twitter ads, etc., you take the best from your advertising activities and make the communication more relevant to customers who will receive many offers this week.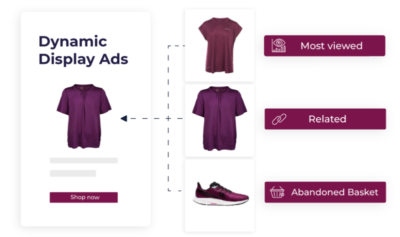 What you've just learned…
Personalization will separate the sheep from the goats on a day (or week) where the ordinary customer gets bombarded with offers and yellow sale signs both online and in-store. To stand out from the crowd, you need to make the customer feel connected to your brand and products.
How do you do that?
Use e-mail triggers to win back potential customers that have left your website without converting
Personalize your website with recommendation modules to give your customers the best experience
Use behavioral customer data to personalize offers in your e-mails to stay in the customer's mindset after they have left "the building"
Stand out in paid media by showing the right products to the right users at the right time.
Strengthen the relationship with brands and suppliers by promoting their products through merchandising