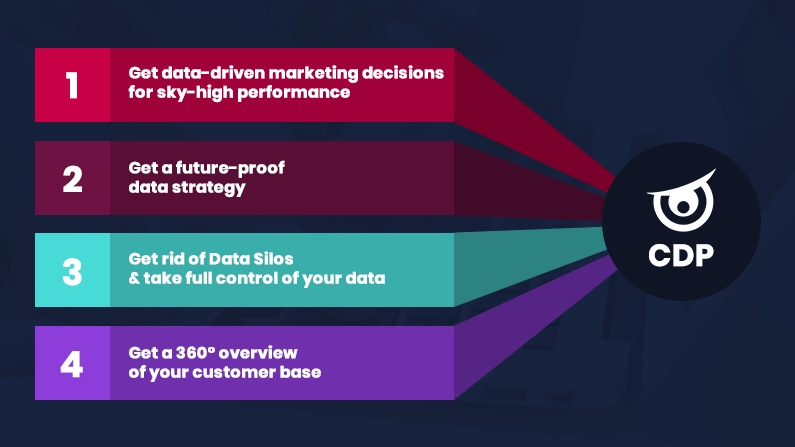 With a Customer Data Platform…
1. You get data-driven marketing decisions for sky-high performance
Don't trust your gut when making your next marketing move!
Raptor's CDP gives you next-level insights into your entire customer base, giving you the facts you need to make high-performing data-driven decisions.
With a CDP, you not only achieve your ROI through better targeting and much-improved sales. You also save operational resources by automating marketing and sales tasks, optimizing media spend, and complying with GDPR requirements.
2. You get a future-proof data strategy
With 3rd party cookies out of the picture, you miss out on a major source of customer data for your personalized marketing.
Unless you invest in the 1st party data within your business. By collecting and connecting the many data footprints your customers leave behind, you can deliver the type of personalized communication that not only performs but is preferred by consumers.
Read more on why you need a CDP before Google Kills third-party cookies
3. You get rid of Data Silos and take full control of your data
Let's be realistic: With every new customer touchpoint developed and activated by your marketing, sales, or IT team, a new silo of data is also created.
Isolated and siloed data can block your efforts towards scaling personalization, and they can harm any attempts you make to understand who your customers are and where they come from.
A CDP gives teams access to leverage customer data across departments – tearing down the data silos that prohibit growth and transparency.
4. You get a 360

° over

view of your customer base with Single Customer View
A CDP enables you to understand your customers on a 1:1 level. What does that mean exactly? Well, it means you can catch micro-trends, deliver accurate product- and content recommendations, and manage your customers' journeys – all through insights you get from every single customer.
A CDP develops a single meaningful view of the customers in real-time, whether from their interactions in the physical store or when they visit your website or app.
You can act on the data you get from all channels and customer touchpoints, allowing you to fully manage your customer relationships.
Maybe you also need to read: 3 Questions to ask before you buy a CDP
Let us show you what you can achieve with premium personalization


A Raptor expert can share more about the product and answer any questions you have.