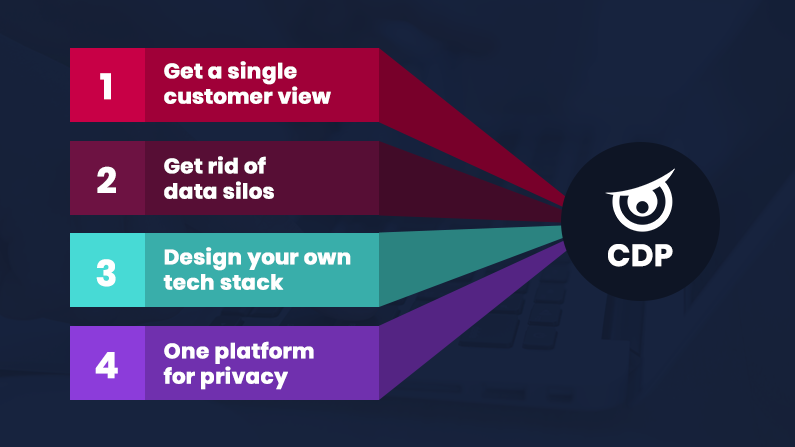 With a Customer Data Platform …
1. You get to understand your customers through a Single Customer View
A CDP enables you to understand your customers on a 1:1 level. What does that mean exactly? Well, it means you can catch micro-trends, deliver accurate product and content recommendations, and manage your customers' journeys – all through insights you get from every single customer.
A CDP develops a single meaningful view of the customer in real-time, whether from their interactions in the physical store (assuming you have a customer loyalty program) or when they visit your website or app.
You can act on the data you get from all channels and customer touchpoints, allowing you to manage your customer relationships truly.
Maybe you also need to read: 3 Questions to ask before you buy a CDP
2. You get rid of Data Silos
Let's be realistic: With every new customer touchpoint developed and activated by your marketing, sales, or IT team, a new silo of data is also created.
Isolated and siloed data can block your efforts towards scaling personalization, and they can harm any attempts you make to understand who your customers are and where they come from.
A CDP gives teams access to leverage customer data across departments – tearing down the data silos that prohibit growth and transparency.
3. You get to design your own tech-stack
A CDP enables you to handpick the best-suited technology (or keep the one you already use). How? A CDP is vendor-neutral and takes in data from any sources you have.
Audiences and predictions are set up centrally in the CDP and applied across various technologies, saving you time and energy if you want to replace one technology with another.
4. You get one place for handling privacy and consent management
In this day of age, working with data across multiple systems is not only inefficient but a careless move if you want to apply to GDPR and rising privacy standards. Governing the flow of customer data through all your systems is critical to keeping up with compliance.
Read more on why you need a CDP before Google Kills third-party cookies
Let us show you what you can achieve with premium personalization


A Raptor expert can share more about the product and answer any questions you have.