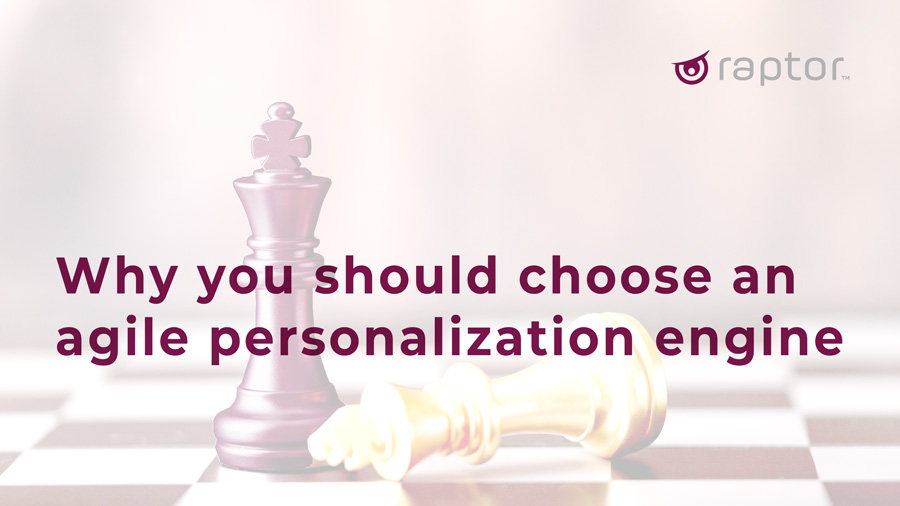 Raptor won the award because of a superior product, which enables clients to easily collect and act on data. In spite of the complexity and many possibilities of the product, the implementation is easy, and businesses can quickly start working with segments and building customer experiences that increase relevancy and conversions.
The Jury
FDIH E-commerce Awards 2019
Our personalization engine is built from a solid understanding of advanced algorithms, data mining, and machine learning. Through continuous training, our platform collects, learns, and recognizes each individual and their interactions – enabling marketers to empower relevant content based on user behavior across platforms and channels.
We share and adapt to your ambitions
A Raptor solution is for ambitious companies, looking for a personalization partner that wants to see their clients grow and be a part of their journey.
Our personalization engine is far from a "plug and play" solution. It requires time to gather enough data to produce the most relevant personalized recommendations. Raptor's personalized recommendations are ready for display from the beginning, but the more data our algorithm collects, the more precise and relevant personalized recommendations it can present to the customer.
Raptor is a best of breed solution, meaning that we focus on what we are most skilled at. We deliver the best personalization solution on the market, and we integrate and implement our algorithm into the different channels and platforms that our clients are using.
Key features
A key feature is that Raptor uses cross-device tracking, to ensure that our clients can track their customers through the whole customer journey, no matter the device.
Creating a signature for each user makes it is possible to track behavior through all
platforms and channels. This helps our clients create a journey where the customers only see personalized and relevant content from an online ad, to the website, to the physical store – a true omnichannel experience.
Raptor's personalization solution is a scalable solution without limits. We always encourage our clients to be creative with our modules and challenge us with new ideas. Raptors modules can be customized, so they fit the specific clients' wishes and needs. A Raptor client will never outgrow our personalization solution.
Raptor is a channel and platform agnostic, which means that we integrate into every channel and platform. Therefore, no matter the tech, integration is always possible. This is very important to us since our clients should not be limited in their selection of providers and platforms.
Choosing a personalization provider
Before choosing a personalization provider, you must make the right decision for both your current and future situation. If you only think about the current state of your company, you might outgrow your personalization solution at some point.
You should keep in mind that quality and price, are generally connected. Therefore, it can be a warning sign when personalization providers offer their services at much lower costs than the rest of the market.
In these cases, you might be missing out on support, agility, customizability, and performance. Low prices always come with a cost.
Raptor's personalization is sophisticated and requires resources to get the most out of it.
Dedicated marketers can present their customer with highly advanced personalization across all channels and platforms.
Raptor is the right personalization provider if you have an ambitious and dedicated team that is eager to boost performance through personalization. Our solution is scalable and agile, which means you will not experience any blocks or outgrow it. Our machine learning, data mining, and advanced algorithms will deliver the best personalization on the market.
The Best E-commerce Tool
May 23rd was the day of FDIH's E-commerce Awards 2019, and it was a day of celebration for everyone at Raptor Services A/S, as we took home the 1st place for Best E-commerce Tool and 3rd place for Best E-commerce Case.
Read more: Raptor won the award for Best E-commerce tool 2019
Let us show you what you can achieve with premium personalization


A Raptor expert can share more about the product and answer any questions you have.