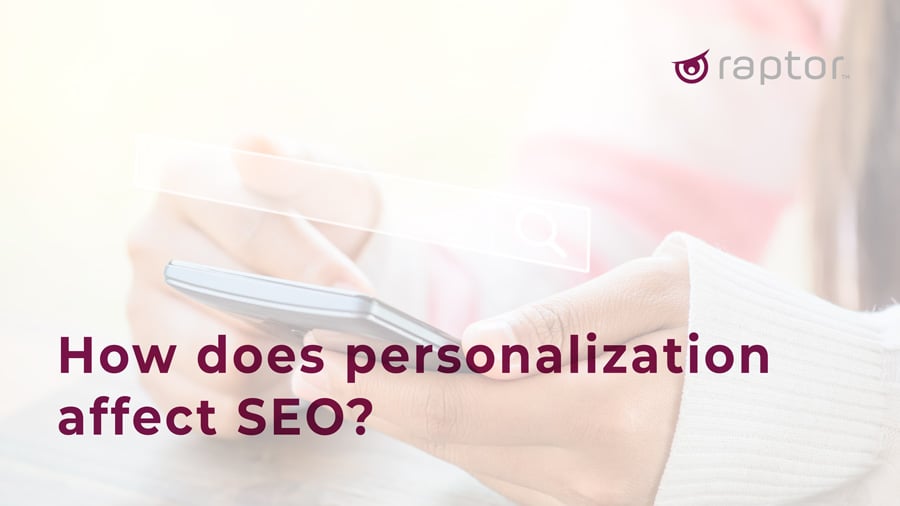 Google is now integrating machine learning into [the process of figuring out what the relationship between a search and the best page for that search is]. So then training models on when someone clicks on a page and stays on that page, when they go back or when they and trying to figure out exactly on that relationship.
Nick Frost
Head of Google Brain, Google
Google does not directly confirm which metrics improve search engine rankings, but that the relationship between a click on a page and if the user stays on the page, feeds their machine. It does, however, sound a lot like the term dwell time.
Digital Marketing Specialist at AI & Performance Agency Kynetic, Kristian Klynge, confirms that they see dwell time as one of the metrics that improve search engine rankings.
Personalized content not only has a positive impact on higher engagement and more conversions on your website, but it can also greatly impact the acquisition of new customers, more specifically through increased organic visibility. As Google evaluates previous user's experience of clicking into your website, based on KPIs such as dwell time, bounce rate and pogo-sticking the increased engagement with personalized content typically contributes to an improvement in organic rankings.
Kristian Klynge
Digital Marketing Specialist, Kynetic
To clarify what the different KPIs mean, a short definition of the terms can be found below.
Dwell time
The time between a person clicks a link on a Search Engine Results Page (SERP) page before they again return to the SERP page.
Pogo sticking
When a user visits many different search results to find the right content that satisfies their needs.
Dwell time and pogo-sticking are closely connected to bounce rate, time spent on site, and average pages per visit. Common for these KPIs are that they all indicate when a user has found what they wanted. This is something that Google rates highly when ranking websites in their search results as Kristian Klynge from Kynetic confirms.
How does personalization improve these metrics?
Websites need to be relevant at all times, to get users to stay longer and browse through more pages. No matter which landing page the user enters, it needs to display relevant products or content tailored towards the individual user, which is exactly what personalization can help you achieve.
You can implement personalization on your site by adding recommendation modules on desired landing pages such as front-, product- or category pages, etc. The output of these modules is based on the user's previous behavior, along with machine learning and data mining patterns. The modules are personalized towards the individual user – which means that no matter what, users will always experience a customer experience that involves relevant products or content.
Personalization modules are often seen with titles such as "Most Purchased Products", "Other Customers Have Also Bought" and "You Might Also Like".
We recommend that personalization modules are at the top, or as high as possible on pages. Users rarely get to the bottom of any landing page, so the personalized touch that a module brings needs to be "above the fold", which refers to the portion of the website that is visible without scrolling down.
Read more: Measuring the effect of personalization
Can personalized product recommendations slow the load time on your site?
Any visual implementation can negatively affect your load time, but with personalization and product recommendations, it certainly does not have to.
The implementation should always be set up through an API that lets data flow freely and responds to calls in milliseconds. The only data that needs to be sent from your personalization provider is product ids and priorities, which means that images and descriptions can be hosted locally on your servers.
A good piece of advice is to always set up the personalization modules, or product recommendation to load asynchronously. That way you optimize the load speed of all pages that include product recommendations.
Will personalization improve your SEO efforts?
Personalization will improve the customer experience – which means that users will stay longer and visit more pages on your website if they are engaged with personalization. Google uses metrics such as bounce rate, dwell time, average time spent on site, and average pages per visit as ranking factors. These metrics are clear indicators to Google, that a user has found what was intended in the search results.
Implement personalization, not only to increase revenue and conversion rates, but also to improve your organic rankings.
Let us show you what you can achieve with premium personalization


A Raptor expert can share more about the product and answer any questions you have.