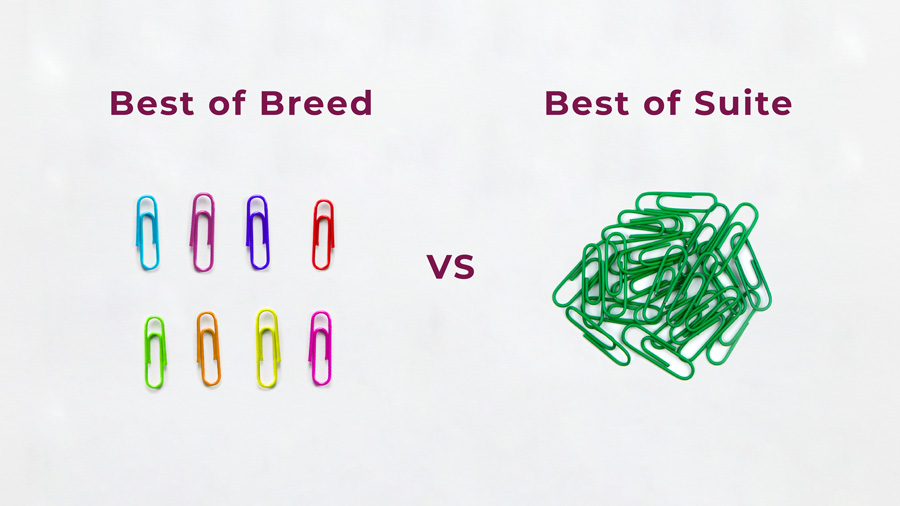 By Helle Vad Jespersen
}
Reading Time: 5 minutes
There is a difficult but important decision to make when you decide to implement a new tool. Before choosing a provider, you must figure out if your strategy takes a Best of Breed or a Best of Suite approach.
This is true for personalization solutions as well.
The Best of Suite approach involves an all-in-one marketing platform with predetermined solutions and features, and the Best of Breed approach involves a specialized solution that can be added to an already existing tech stack.
When the decision is made, the next step is to research the different providers available on the market, within the chosen approach.
What is best of breed
Best of Breed focuses on a specific purpose and is specialized within a niche. The Best of Breed provider does not attempt to solve every problem but has a clear strategy and aims to be the best within their field.
Businesses that choose this approach are able to find the optimal Best of Breed solution that fits their existing tech stack, without compromising their existing solutions.
What is breed of suite
Best of Suite aims to offer an all-in-one platform. The goal is to simplify the tech stack and gather everything in one suite. Businesses that choose this approach have a choice of predetermined solutions within the platform, such as email, mobile, web, ads, and social. Personalization features often require custom development.
Read more: Personalization engines need data to be relevant
Considerations before making a choice
When deciding between a Best of Breed and a Best of Suite approach, you have to consider your requirements and needs. If you are clear about your requirements, the chance of you making the right decision is higher.
If you already have several Best of Breed solutions in your current tech stack, you should be aware that choosing a suite provider probably means quitting most of your existing best of breed solutions.
If you choose an all-in-one platform and continue with some of your specialized solutions, you might end up paying the Best of Suite provider for solutions that you don't use.
You also need to ensure that your suite includes services that correspond to your Best of Breed solutions. A suite will never have all the tools you need, so you will still need some specialized solutions. Therefore, the platform you choose should be able to integrate with them.
Consider your need for integrations
Companies integrate more and more channels into their marketing strategy, each with a technology requirement. A Best of Breed approach means that marketers can build their tech-stack with no worries about the ability to integrate.
In the past, channel and software integrations have troubled marketers when building a technology stack. However, modern Best of Breed tools are much easier to integrate since they are built with integration in mind.
Furthermore, a Best of Suite approach requires you to migrate your entire system at once. If you choose a Best of Breed approach, you can migrate channels onto your new tools at a pace that suits you.
Consider your channels
Which channels are you planning to personalize? Best of Breeds tools are often agnostic, which means they can integrate into all platforms and systems.
It is not necessarily the same with Best of Suite platforms, so make sure the suite can personalize all your marketing channels such as email, website, paid media (display and shopping), internal search engine, and content.
Consider your need for features
Statistics show that Best of Suite users are less likely to use half or more of the features in their marketing suite. Only 22% of suite users use all the features in their suite. Similarly, suite users are more likely to be unhappy with price, complexity, and customer service.
If you don't use all the available features within your suite, you are paying a lot of money for something you don't use. However, with a best-of-breed approach, you only have the tools you have chosen yourself. This also means that you can easily get rid of a tool if you are not happy with it, which is not that easy with a suite.
Remember to think about the future, it can be hard to predict – make sure that the approach you choose can grow with your business.
Consider your need for support
Best of Breed solutions will often have a dedicated account manager for each client, which means your voice will be heard. Updates will also be implemented to Best of Breed faster since these providers focus on one area, and that means they can keep pace with the needs of their clients.
Read more: Why you should choose an agile personalization engine
Freedom of choice
Freedom of choice is essential, and it's the keyword when discussing the choice between Best of Breed and Best of Suite. The convenience of using an all-in-one system means sacrificing freedom. However, if you take a Best of Breed approach, you avoid investing in solutions and tools you don't need.
Furthermore, when choosing the Best of Breed approach, companies have the freedom to choose the solutions they want within every niche. When choosing a Best of Suite approach, the solutions you get are predetermined, and the freedom of choice is gone.
Most systems these days are technology agnostic, meaning that every Best of Breed solution can integrate into the platforms and systems that you already use. When you build your tech stack of different tools, you can keep things separate, and that makes it easier for you to navigate and maneuver in the technological landscape.
Choosing a Best of Breed personalization provider means that you are choosing a partner that is specialized and has expert knowledge of the field. This is not always the case for the tools in a Best of Suite. They have to be experts in all of their fields, and that is no easy task to accomplish without compromising performance.
A Best of Breed solution makes it easier to tailor and modify solutions towards your needs and priorities, and that frees up resources at your company to focus on execution.
Read more: Triggers – Raptor vs. Platform
Single Customer View
If you choose to go with the Best of Breed approach, you need to connect all the solutions in your tech stack. If not, all your customer data will end up in silos – it is all about streamlining the different ID's, which each system has given the customer and made it into a unified ID or a Single Customer View. This means that you need one platform, which connects all the Best of Breeds in your tech stack and allows you to communicate 1:1 with the customer through all the different marketing channels that your company uses.
Read more: Customer Data – From insights to operationalization
No one becomes a specialist overnight
Personalization is a science, and like in any other niche, no one can become a specialist overnight. The definition of a specialist is; someone who has a lot of experience, knowledge, or skill in a particular subject.
Through 10 years of working with personalization, Raptor has become one of the leading personalization engines, using advanced algorithms, data mining, and machine learning.
The Raptor personalization engine collects and learns from data. As patterns emerge, it recognizes each individual and their interactions with your business – making you able to empower relevant content based on consumer behavior.
Knowing your limits
Sticking to your field of expertise is essential when the goal is to deliver the best performance for your clients. A great example of this is our Personalized Search Customer Case with Algolia on BilligVVS.dk.
Algolia is an international Best of Breed provider within internal search and discovery. They enable e-commerce businesses to create fast, relevant, and intuitive search and discovery experiences. Their solution increases conversions, engagement, and customer loyalty.
It seemed natural to implement our Best of Breed personalization technology into Algolia's search engine. The combination proved to be the perfect fit, and since the implementation BilligVVS increased its search revenue by 15%, their Average Orders by 4.8%, and their Average Order Value by 10.3%.
Read more: Personalized Search Case – BilligVVS
Key takeaways
No one is specialist within everything
Freedom of choice is the a key word and the main difference between best of breed and best of suite
Only 22% of suite users use all the features in their suite
With a best of breed approach you can choose the best tools and solutions for your current and future needs