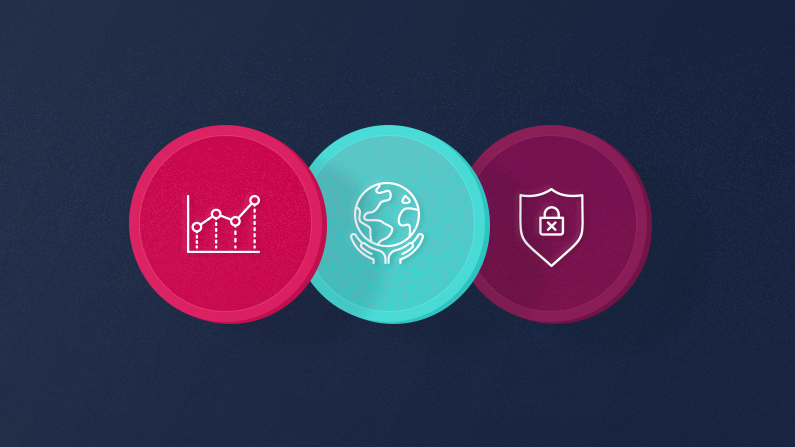 1. CMOs are expected to take on the CRO role

The challenge:
For 83% of companies, marketing is seen as a clear driver of growth, and that's why CMOs are generally expected to own revenue accountability.
Unfortunately, roughly every fourth (23%) CEO feels that their marketing organization is not delivering on the growth agenda. That puts pressure on CMOs to deliver some tangible, reportable results.
What you can do:
The right MarTech tools can optimize your marketing activities and make the results transparent and actionable. A CDP (Customer Data Platform) helps you solve the data management aspect of this challenge by answering questions like "How do I understand and store knowledge of my customers?" and "How do I process data?". It also helps you decide which customers should be targeted by which campaign, so you avoid wasting your marketing spend on the wrong segments at the wrong time.
Adtech tools like Adnami and Adform can help you broaden the number of customers reached as well as acquire new customers through impactful campaigns.
Want the full list of solutions to increase revenue through everything from design to distribution and measurement? Check out page 8 of the MarTech 2023 Report.
2. ESG - new, non-financial expectations

The challenge:
It's not just about delivering results in the bottom line. Investors are expecting companies to set goals for their performance on ESG - Environment, Social and Governance as well.
When it comes to environment, digital technologies are responsible for roughly 4% of greenhouse gas emissions. This means that there is an increasing pressure on CMOs to find ways to execute marketing activities without unnecessary strain on our planet.
What you can do:
Choose providers that make an effort to reduce data usage. While servers in data centers are constantly running and consuming electricity, cloud-native architecture and public clouds can help save electricity.
3. Tightening privacy regulations

The challenge:
You probably feel this already. CMOs are experiencing an increasing pressure for improving customer transparency and consent management. People want to know what data you are storing – and why and how you are storing it.
This is not only a demand from consumers. Data Protection Agencies all over Europe are scrutinizing the GDPR framework and whether popular tools are compliant – most recently Google Analytics, which has been deemed non-compliant without significant changes of the settings.
Maybe you have also noticed a drop in your paid marketing performance on Facebook or elsewhere? It's no surprise, since Apple's iOS 14 update has made it harder to track iOS devices across websites and apps. Now, only 10% of users are allowing tracking, which means that the vast majority of iPhone users are being excluded from your data collection. This means that your targeting to look-a-like audiences is distorted a best and completely useless at worst.
The deprecation of 3rd party cookies makes matters even more complicated. While it's definitely a win for data privacy advocated everywhere, it severely limits your targeting. In order to save your ROI and ROAS, you need to take other steps to collect and organize customer data for advertising purposes.
What you can do:
Rethink your data strategy. Many brands are seeing excellent results from shifting to a 1st party data strategy focused on connecting all your data sources and thereby recreate the performance you have lost. If you choose a CDP, you get insight into the Customer Lifetime Value of each customer and you are able to deliver the personalized content that drives growth in your organization.
Learn how SPORT24 have mastered the art of segmenting through a CDP.
It's also your responsibility to make sure that you use tools that deliver the highest level of control of personal data. That's why you need to choose for providers that demonstrate a clear effort when it comes to privacy and data protection. The ISAE 3000 certificate is a good predictor of this, as it is an external review of their adherence to current laws and regulations.
Key takeaways:
The CMO is expected to take on the role of CRO. Take ownership of your marketing efforts by choosing tools that provide measurable data and reportable results.





ESG pressures are more present for CMOs than ever. Think about your environmental impact when it comes to data storage and transfer without compromising on the dynamic and personalized content you deliver.





Privacy regulations are only getting tighter. A great option to save your targeting options is shifting to a 1

st

party data strategy. This way, you can target more of your best customers and reach them with personalized content – while fully respecting the demand for data privacy.
Report
The Martech challenges of 2023
Martech is a fastgrowing segment and experts believe that Martech has the potential to continue increasing as a share of marketing spend, but there are some confrontations.
Tightening privacy regulations and increasing marketing accountability are some of the challenges that CMOs and E-com Managers face today.
This report helps you how to navigate in this to stay on top of things. It will take you through the challenges of Martech 2023 and how to turn them into opportunities for you and your business.
Simply fill out the form below and receive your Martech Report of 2023
Let us show you what you can achieve with premium personalization


A Raptor expert can share more about the product and answer any questions you have.