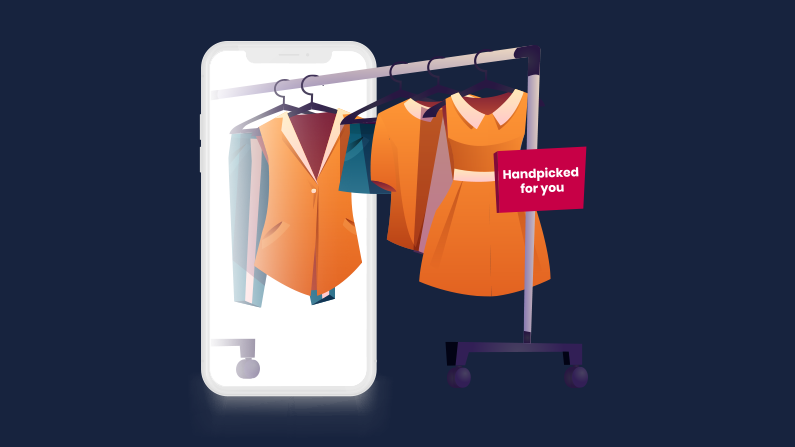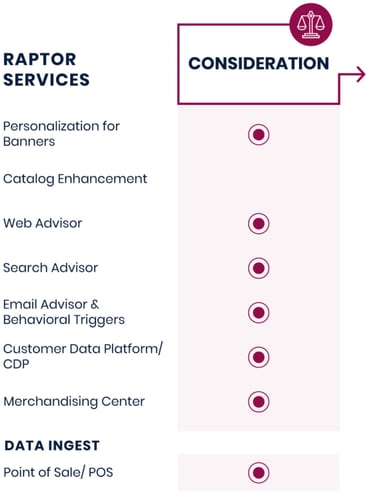 Step 2: Personalization in the Consideration phase
In this phase potential customers have become aware of your brand and will start researching content, visit products and compare alternatives.
Based on the data you have gathered so far (clicks, views, and other previous interactions) you can now recommend similar or related products based on the customer's previous interactions – and not just focus on best-selling or trending products.
Raptors Web- and Search advisors are therefore highly relevant in the consideration phase.
Which Raptor personalization solutions and data ingestions that are most useful in the Consideration phase.
Nudge with Behavioral Triggers
A good way to target your customers in the consideration phase is by using Raptor's Behavioral Triggers. Triggers can be used to send automatic and highly relevant emails to subscribers based on their previous interactions on your site. The Product Interest trigger is great to target subscribers that have shown high interest in a product but have not added the product to the basket yet.
Want to learn the art of nudging in fashion?
Personalization is the simplest way to make customers come back.
Get the guide here
Create offline and online synergy
Offline data such as transactions from your physical store can also be used to improve online recommendations. If the customer shows interest in a certain product, you can use your offline data to determine what products should be featured as related products online, based on what has been purchased together with this specific product in your physical store.
Conversely, you can choose to furnish your physical store based on which products are often bought together.
You can also place in-store information screens that display bestselling products within a category or various other personalized recommendation modules as well as personalized on-site search. Just like on your website, but now in a physical setting in your store.
This way you're using your collected customer data to create a coherent customer journey – both online and offline.
Case Study: BilligVVS increased search revenue by 15%
Let us show you what you can achieve with premium personalization


A Raptor expert can share more about the product and answer any questions you have.