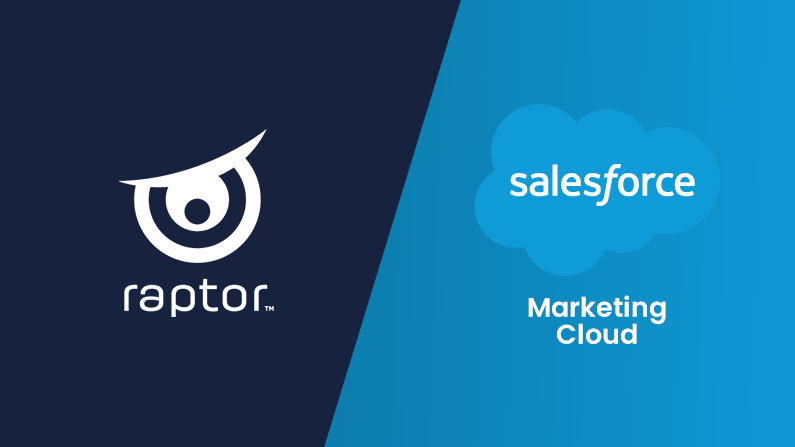 3 benefits from combining Salesforce Marketing Cloud and Raptor's personalization engine
1. No coding - just well-timed automation triggers
On its own, the 'Journey Builder' in Marketing Cloud provides a useful platform for building automation flows (Journeys). But without data, the Journey will have nothing to act on.
Here, you can either choose to do coding yourself to provide Marketing Cloud with the information it needs to create a Journey (from product information to behavioral tracking and other data points).
Or you can choose a Best-of-breed tool that delivers the finished result up front.
When Raptor delivers a data extension to the Journey Builder, you get the most detailed foundation for building well-timed Journeys for the right receivers. With no sold out or previously bought products.
No coding or custom-building. Just well-timed personalized messages.
Let's take an example:
Step 1. A customer places a sweater in her basket, and Raptor captures customer data along the way.


Step 2: Raptor populates a data extension in SFMC with all accumulated data: Basket size, basket value, customer ID, etc.
Step 3: A 'Journey' is triggered automatically by Raptor. If the basket gets abandoned, the journey could say to send out a trigger e-mail after 24 hours in order to secure the conversion.
Step 4: If the sweater is sold out or has been purchased in the meantime, Raptor will know and change the content of the module accordingly.
Other high-performing triggers include:


Product interest: If a user visits the same product several times within a short period, an e-mail reminding them of this item helps you secure the conversion. You decide how many visits should trigger an e-mail if they don't convert during the first visit.



Price drop: Many users will return to buy an item they are interested in once the price has dropped. If a product the visitor has shown interest in goes on sale, this will trigger an e-mail to let them know about it (Psst... Zizzi achieved an 8+% on this e-mail trigger)



Back in stock: Sometimes sold-out products still feature on your website for people to visit. If a user shows interest in a sold-out product, you can automatically notify them once the item is back in stock.
2. Modules update in real-time

Nothing is a bigger turn-off than being shown an ad for a product you just bought a few days ago.
With Raptor as a part of your Marketing Cloud, you can deliver personally tailored product- and content recommendations that change in real time. This means that the recommendations in your e-mail will update the second your subscriber chooses to open it.
This way, you make sure the products you display are always relevant and updated according to your customer's behavior.
Dynamic ads = no more sold-out, irrelevant, or already-bought products in your modules.

Raptor's personalization engine has many different modules and algorithms to choose from – or we can create the ones you need.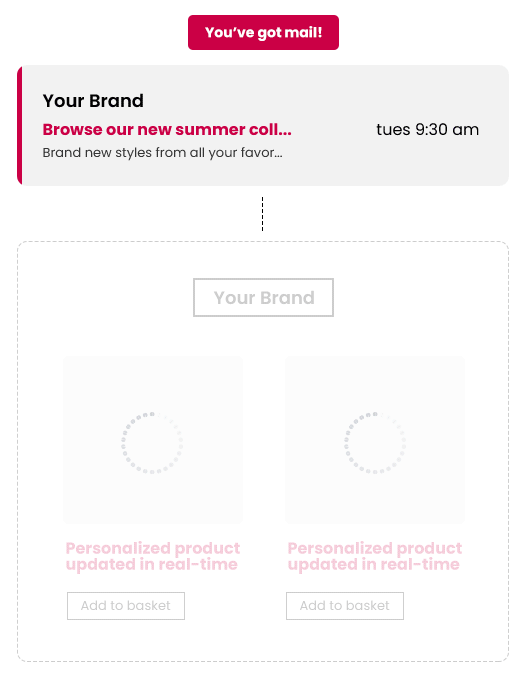 3. Design your e-mail recommendations to fit your visual identity
One common pain when using Salesforce Marketing Cloud for e-mail automation and newsletters is that Marketing Cloud is not very flexible when it comes to styling.

The platform only offers a set selection of fonts and designs to choose from when styling your recommendations, and if your visual identity is important to your brand, then you don't want to compromise on that.

With Raptor's Layout Designer, you can freely design your e-mail modules from beginning to end. All fonts, images, splashes, and overlays – total creative freedom and no annoying pixelation.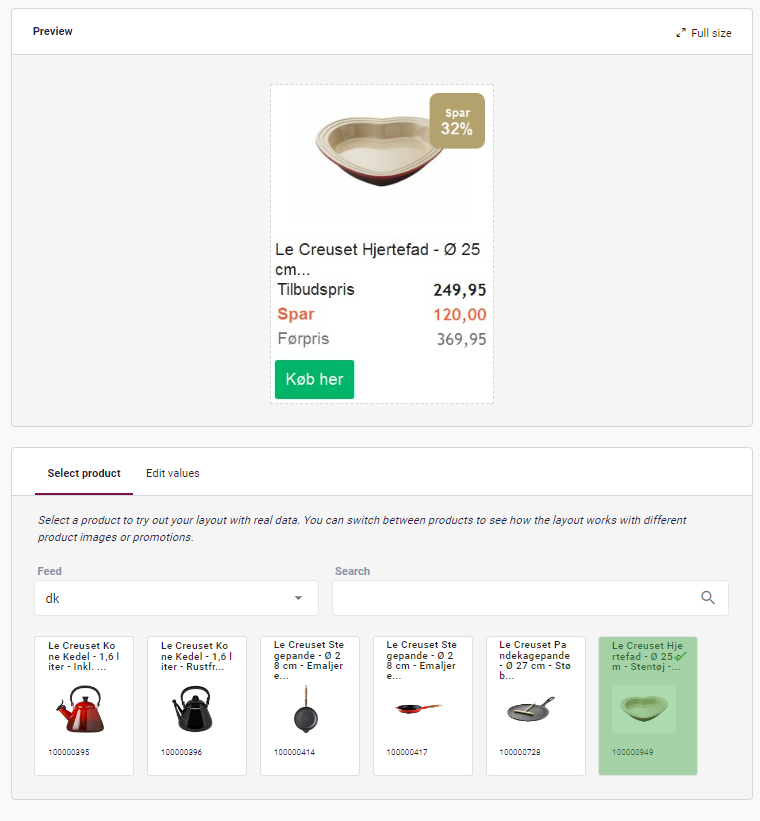 Personalization is complex – we're here to support you

No one likes to get stuck or run into bugs – and then find themselves screaming into a void in search of support.

When choosing your personalization provider, make sure you find one that is ready and available to support you with the issues that are bound to pop up occasionally.

As a Raptor customer, you get assigned your own, personal consultant that you can reach out to. They will support you from beginning to end, they know your business and your strategy, and you can skip the endless support lines and robotic responses.
DK Company, Zizzi, Apopro, Rosendahl, and more brands are already harvesting the benefits of Raptor's integration to Salesforce. Are you curious how you can get the most out of your Salesforce solution with Raptor?

Let's show you, what you can achieve with our Personalization in Salesforce!
Let us show you what you can achieve with premium personalization


A Raptor expert can share more about the product and answer any questions you have.