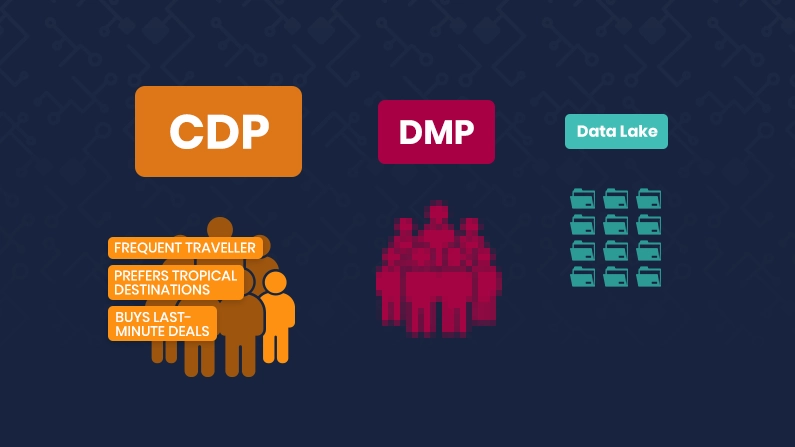 CDP vs DMP
"CDPs work with both anonymous and known individuals, storing "personally identifiable information" such as names, postal addresses, email addresses, and phone numbers, while DMPs work almost exclusively with anonymous entities such as cookies, devices, and IP addresses. Indeed, anonymity is essential to the DMP's role as a way to exchange information about audiences without violating personal privacy."
"But just adding personal identifiers doesn't give a DMP the advanced identity matching and flexible data storage built into CDPs. So it will be hard for most DMPs to match full CDP functionality."
What is Data Lakes (The DIY CDP)?
A Data Lake is an information system capable of storing large volumes of data from any area of the company, not restricted to customer data.
It's an empty lot you buy from data warehouses like BigQuery or Snowflake on which data unification logics are built from scratch. This makes the most apparent advantage of a Data Lake its unlimited customization and open-source format.
Organizations often choose to build their own data platform if they have extremely specific use cases that existing CDPs cannot fulfill. However, it also requires a lot of effort and resources on hand, meaning that the time-to-market with a DIY CDP is often longer because of the significant technological resources it demands.
Why would you build your own CDP?
You can find use-cases that benefit from building a CDP vs buying one. The argument for building a CDP from scratch often centers around the possibilities to add new features as new needs appear, giving the company more control than had they gone with an existing vendor. However, while that might be true in theory, the reality is often that few IT departments hold the resources to live out this promise. Building and maintaining a CDP is incredibly demanding in time and money, so having one for "potential" needs, might be an expensive solution after all.
There is also a high risk that the DIY-CDP project will fall to the ground by taking longer, costing more, and delivering weaker results than expected. It goes without saying that building something from scratch is a time-consuming endeavor and a priority that might make you miss the boat in the fast-changing tech market. Following this, it will also take longer before your organization reaps the benefits of a CDP as time-to-market delays.
However, if your organization can somehow elevate from those concerns then building a CDP from the ground-up might be attractive. In any case, choosing to build one should come down to specific use-cases, where professional consulting is recommended.
Check out CDP.com for a thorough distinction between the two CDP types.
What's next?
At this stage, you might be left more confused than relieved. Well, we hope not, but truth be told navigating different CDP solutions is quite complex.
The number of CDP vendors is exploding, and while almost anyone ingesting data from their channels or excel sheet can claim to have a CDP, few have the machinery to properly fuel their platform with enough data to benefit customers.

A Customer Data Platform should make life easier at all ends of your organization - so whichever vendor you choose, you should aim to achieve that.
Let us show you what you can achieve with premium personalization


A Raptor expert can share more about the product and answer any questions you have.