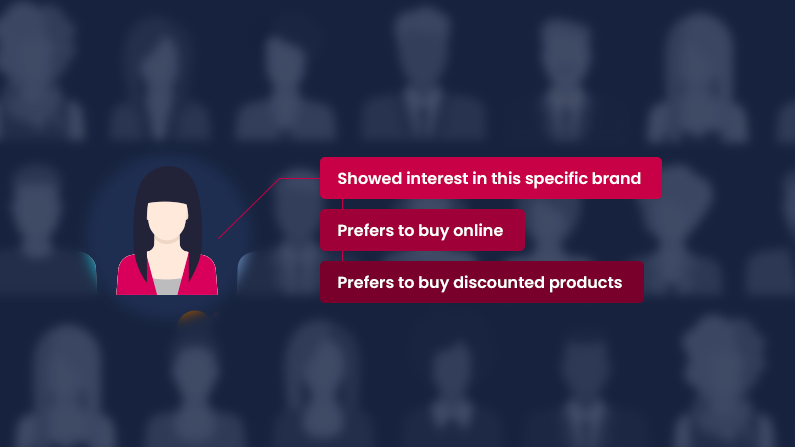 Do you want a complete guide?
Download our '7 tips to maximize sales for Black Week 2022'
Let's be honest!
Black Friday is not necessarily a profitable business. Even if your sales volume is high, your short-term profit margins might be low. When you and your team have worked so hard to be ready for the Black Friday season, you want to harvest the data of every lead that enters your business.


More

visitors = higher quality data for future campaigns



During Black Friday you'll have visitors who are both known and unknown. Many of Raptor's customers see twice as many interactions in their online store as they normally do, and this data is valuable, even if your visitor doesn't end up purchasing. All activities, including purchases, clicks, and visits can be collected and used for better targeting of visitors and customers in the future.

A CDP is ideal to help you get to know your visitors inside and out. With a CDP, you can take behavioral data from any source both online and offline and create a Single Customer View of each of your visitors. This way you can secure high quality personalization and deliver consistent messages through all channels.

Many of Raptor
's customers see twice
as many interactions in their online
store
as
they normally do
, and this data is valuable
, even if
your visitor
doesn't end up
purchasing.
For Sport 24, Raptor's CDP contributes to their growth by enabling them to create audiences and target them with relevant content and recommendations. Read more about their experience with our CDP here:
Sport 24 case: Why working with customer data should be the long haul


Improve your knowledge of your customers
It's likely that you'll get new visitors on your website and new subscribers due to your Black Friday campaigns and discounts. In fact:


74% plan to shop online during the Black Friday season"

Having a CDP is your chance to collect data and knowledge about these new segments to make sure you reach them next year on Black Friday with precise and personalized targeting.

The same goes for your existing customers, where a CDP can improve your knowledge of them and thereby give them a more unique customer experience. So instead of communicating a general Black Friday message, you can target customers with personalized ads at their specific touchpoint in the customer journey.



Look-a-like audiences
With a CDP and the improved amount of data, you have the ability to create look-a-like audiences - a group who is likely to interact with your ads becausve they are similar to your best, existing customers. This way you focus on your best customers and at the same time target new customers, who have the same potential as your best customers.

Not all customers are as good as others during Black Friday. For those who purchase big, it can be relevant to create a look-a-like audience, which you can target in a Black Friday campaign to attract more customers like them.




Customer Lifetime Value
If you have Raptor's CDP you will also have access to our Customer Lifetime Value Model (CLV) – a calculator to help you analyze your customers' behavior. This tool can predict how their behavior changes over time and whether they have a different behavior during Black Friday.

As the name implies, a CLV calculates the value of each customer. It can tell you if a customer is about to churn, your customers' frequency for buying, and how much money they are expected to spend during their lifetime – just to name a few.

As mentioned, many online stores get a lot of new customers during Black Friday. At Raptor, we see that many of these customers have a higher risk of churning than the customers you get during the rest of the year. Here, you can use our CLV model to identify these customers and thereby target them with relevant campaigns to prevent them from churning.


Do you want to know more about CLV?

Whether Black Friday is your most profitable day or just a trend to keep up with, you want to make the most of your hard work. A CDP helps you organize the oceans of customer data that comes into your business during Black Friday. This way you can use your Black Friday data to create new and better audiences for campaigns far beyond this shopping season.

Key take aways
A CDP can help your business reach both new markets and new customers and improve your relation to existing customers.

With a CDP you can create look-a-like audiences and thereby improve your performance.

You can identify the customers who's about to churn with Raptor's CLV model.
Let us show you what you can achieve with premium personalization


A Raptor expert can share more about the product and answer any questions you have.